Petronas History..
The earliest official record of oil finds in Malaysia was made in July 1882 by the British Resident of the Baram district in Sarawak. The oil was used by the local residents for medicinal purposes and later for lighting lamps and waterproofing boats. Commercial exploitation only began in 1910 when the Anglo-Saxon Petroleum Company, the forerunner of the present Sarawak Shell which was granted the sole right to explore for petroleum in Sarawak struck oil in the town of Miri, marking the start of the Malaysian petroleum industry. The Miri success encouraged further attempts to discover other onshore fields. However, only traces of petroleum were found, and these were not large enough to justify drilling activities.


Consequently, by the 1950s, attention turned to the seas. This was made possible by new improvements in offshore petroleum technology. Marine seismic surveys were carried out for the first time in Sarawak in 1954. The shift offshore began to show results in 1962 with the discovery of oil in two areas offshore Sarawak. Other finds followed in rapid succession. In Peninsular Malaysia, petroleum exploration activities began in 1968 and the first oil field was discovered in 1971.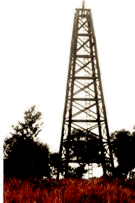 As in many other developing countries, oil companies in Malaysia had been operating under what was known as a concession system. Under this system, large areas were made available to oil companies under very generous terms and the Government retained very little control. In return for these concessions, the oil companies paid a small royalty and taxes to the Government.

During the Israeli war in 1973, several Arab oil-producing countries decided to stop oil shipments to certain countries. As a result, there was a mad rush for oil, prices shot up overnight and the world experienced its first energy crisis. The 1973 oil embargo also made oil producing countries of the world realise the importance of controlling their own petroleum resources.


In Malaysia, it led to the promulgation of the Petroleum Development Act in 1974 and the formation of a national oil company to ensure that the nation's petroleum resources could be developed in line with the needs and aspirations of the nation. Article 2 of the Act vests the entire ownership in, and the exclusive rights, power, liberties and privileges of exploring, exploiting, winning and obtaining petroleum whether onshore or offshore of Malaysia in PETRONAS.



© 1999-2000 PETRONAS